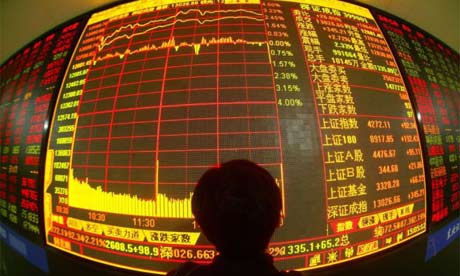 China has experienced enormous economic growth over the past several years, moving from the sixth largest economy in the world to the second over the past 15 years. But it seems that countries economic expansion has finally begun to cool off.
Growth in China has fallen to its lowest levels since 2009, which has many investors in the United States, and throughout the world, nervous about how this will affect them at home. This fear is compounded by the belief that Beijing may be cooking their books, meaning the economy may be even worse than they are letting on.
If the Chinese economy continues to shrink, many fear that this will bring other economies down as well. This comes at a time when governments are running out of money to continue jump starting economies in need, following the Great Recession of the United States as well as the European Debt Crisis and the troubles with Greece.
While it is still early to determine if China has just hit a minor roadblock or if country is, it doesn….. These are some of the main ways that China's economic turbulence could affect the United States economy:
1) Trade Slowdown
United States – China trade is expected to surpass the United States – Canada trade relationship as the largest in the world, according to State Street Global Advisors. A slowing China economy would mean less purchases of United States goods.
However, exports only make up 13% of GDP, while consumer spending accounts for more than two-thirds. This means that the United States will likely not be greatly affected by reduced trade. As long as consumers continue to spend their money, the economy as a whole should be able to weather the storm.
2) American Business Hit
The United States stock market has significant exposure to China's economic troubles. In fact, 40% of the revenue generated by S&P 500 companies comes from overseas markets. If China's economy continues to struggle, it could hurt multinational companies that rely on purchases made from consumers overseas.
While many large companies, such as Apple and Nike, claim that China's slowing growth has not hurt their business, continued downward pressure could eventually affect large companies with exposure to foreign markets.
3) China's coming financial
The explosion of economic growth throughout China was fueled largely by an explosion of debt. But as the economy begins to slow down, the concern is that toxic loans could trigger a financial crisis similar to what happened in the United States with bad mortgages in 2008. Although many investors seem confident that the Chinese government will step in before a problem of the magnitude arises. The government has a cash hoard of $4 trillion and is willing to spend heavily to prevent a stock market plunge. The central bank has already aggressively lowered interest rates to help aid the economy.
Check out the video below to learn more about the problems within the Chinese economy.